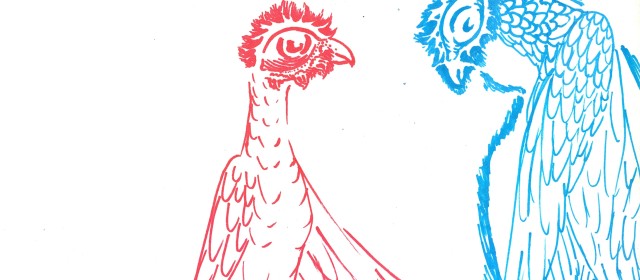 This article originally appeared in Dayton City Paper
Rainbow, sparkles, and all things fabulous this is what you might typically think of when you hear "Pride Weekend" and "Gay Pride Parade". How about love, support, equality and acceptance? This Pride weekend is about more than showing off, and it's more than just a celebration limited to the gay people of Dayton. In fact the more heterosexuals who support these events the more their purpose is achieved. This is about embracing the people who have been ignored, looked over and sometimes hated in our society that caters to opposite sex couples 365 days out of the year. They're not asking you to convert or change your fashion choices (Even if you really should). They gay people of Dayton are simply throwing a weekend to celebrate their culture which often gets hidden and overlooked in the far corners of our city. These individuals are brave enough to throw a massive public party and forgiving enough to invite everyone despite all the years of being excluded themselves.
After riots and protests that started in 1969 between Philadelphia and New York City the first ever Gay Pride March was held in New York City June 28, 1970. It covered 51 blocks from Christopher Street to Central Park. In 1971 Gay rights activists applied for a match in the city of Columbus. They were denied for several months straight before the officials finally agreed.
In 1973 Cincinnati held its first ever Gay Pride Parade with 70 people participating. That same year Columbus had 150 people for the first regional pride parade. By 1985 the Columbus Pride Parade had 3,000 marchers. Cleveland Ohio hosted its first gay pride parade in 1990, Toledo 1995, and Akron 1996.
June 1999, in Columbus the rainbow flag was flown from a Statehouse flag pole. "This was the first time in Ohio and only the second time in the nation that a rainbow flag had been flown with official sanction at a state capitol. At the pride parade, Chuck Spingola climbed the pole and cut down the flag. He handed the flag to Toni Peters who set it on fire. Chuck Spingola felt that flying the rainbow flag at the Statehouse was " . . . sanctioning sin and encouraging people to go to hell." Spingola and Peters were convicted of criminal damaging. In response to this incident, a state board adopted a policy that says only U.S. and state of Ohio flags can be flown on state property, unless approved by the governor." Outlook (July 8 – 21, 1999); The Toledo Blade (August 4, 1999); Gay People's Chronicle (March 24, 2000) (Banner 2013)
Despite that huge setback and disappointing display of hatred all across the country rallies, parades and marches continued to pop up and grow in numbers.
Dayton Ohio had its first ever Pride Celebration in 1986. In 2002 we had our first parade and that tradition carries on today. Dayton Ohio is starting to develop an annual tradition that is filled with celebration, fun, parties, gorgeous costumes, acceptance and love.
Gay Pride Day officially starts at 9am with a fantastic breakfast being served at MJ's Cafe. Line up for the gay parade starts at 11am in Cooper Park, on the corner of Second and Saint Clair downtown. The parade itself begins at Noon and is led by Grand Marshalls: Adam Hoover of Marriage Equality Ohio, Kim Welter and Elyzabeth Holford of Equality Ohio.
Masque nightclub located on 34 N Jefferson St will open at Noon with free admission and drink specials all day long. The main stage will feature local drag queens, kings, singers, and dancers.
At 8pm Dayton Gay Men's Chorus present their concert "Turn It UP" at the Victoria Theatre. Masque will have stage show featuring the winner of RuPaul's Drag Race Season 5-Jinkx Monsoon, along with season 5 contestants Alaska and guest hostess Penny Tration. A Meet-and Greet with Alaska, Jinkx, and Penny will follow. Showtime is 10pm.
There are also events running throughout the week. Thursday May 30th Masque will hold its annual "Turnabout Show" in which employees get a chance to perform on stage. Friday May 31st is "Ab Fab Friday-The Pride Edition" which features the Masque Wrestling Team of male dancers, with Emcee Montana McDaniels and the official Mr. and Miss Ohio Gay Pride from Columbus Ohio, all beginning at 11pm. Sunday June 2nd, Masque will hold a Fundraiser show at 10pm for the Dayton chapter of GLSEN, the gay, lesbian, and straight education network.
June 15th is the Annual Pride Dinner at the David H. Ponitz Center on the campus of Sinclair Community College starting at 5:30pm with a cocktail hour and business expo. This event is headlined by the hilarious Poppy Champlin. To reserve tickets the website, www.daytonlgbtcenter.org and click on the pride dinner tab.
The movie "I Do" will be showing at the Neon theatre Thursday June 20th at 7:30pm. This special screening is $9.00 for general admission, and $7.00 for Greater Dayton LGBT Center members.
Dayton Gay Pride Weekend officially begins June 1st at 9am. The Pride Parade begins at noon but lineup starts at 11am at Cooper Park, on the corner of Second and Saint Clair Streets in Downtown Dayton. Events continue throughout the day at various locations.
" Banner: "A Brief History of GLBT Pride Parades in Ohio"; Gay Ohio History Initiative. Copyright © 2013. http://www.gohi.org/banner-background/a-brief-history/
Johnson, Raymond. "A Brief History of Gay Pride Parades, Christopher Street Liberation Day"; About.com. copyright ©2013. http://gaylife.about.com/od/stonewall/a/stonewallhistory_4.htm