News
The most recent of things and updation
9/6/2017
Comics VS Art is currently hanging in Wild Goose Creative (2491 Summit St Columbus, Ohio) and will stay through the end of the month. During the four days of CXC you can see this show at the Columbus Museum of Art! It's gonna be a great September.
2/11/2016
The Blog is back!!! And I've updated the resume/credentials page. Damn it's looking sexy these days 😉
Also in the Spring I'll be running a panel at Gem City Comic Con in Dayton Ohio. I'll be there on Sunday talking about mini comics and why their awesome. Click here for more information.
02/02/2016
Published Stampede with Orsum literary magazine.
Published Baby Doll with Orsum literary magazine.
01/06/2016
Jacobs Shadow is now on Panoply zine! This is my first fiction publication. Panoply is a flash specific literary magazine.
1/16/2014
As I'm sure you've noticed I haven't had any time to blog lately.  That is not to say that I haven't been making things during this little hiatus. I've been focusing on school and entering writing contests as of late. I do have at least one new Poptart inked I just don't have a scanner in Columbus so progress is slow.
To hold you over for the time being I have put up the old comic I did for the Betty Blank universe as a supplemental side story. You'll find it under the Betty Blank saga tab. I've only got the first 18 pages up right now I'll put up the rest soon.
There is also some new art under the portfolio section. Some of it is old and some is new.
Thanks for the patience,
Kate
9/23/2006
Busy continues like an infectious growth you just can't get rid of. Contrary to how this sounds I'm remaining optimistic.
My last few articles for Dayton City Paper:
I got to interview Sigur Ros! Click here
See blog for further on this: Click here
Since I won't be regularly doing Dayton City Paper article anymore I've started doing occasional pieces for Ohio State University organizations which is at my own leisure and helps my hand to try something different. This semester I'm in a humor club and my first piece is up already: click here
I also have a one day art class coming up for Rosewood, October 19th 1:00-3:00pm ages 12-15, as part of the Illustration sampler classes: Click here
8/26/2013
Busy busy busy now. I really want to blog had many adventures but school and work before blogging sorry. Will catch you up later.
8/14/2013
I have exactly one week until I start school at Ohio State University. Much stressing about money because I don't get enough back for textbooks, have no cosigners so no more loans, and hardly enough money for rent… Don't worry I'll work it out just understand I'll be a busy lady.
In good news got a big article in the latest Dayton City Paper see here
8/6/2013
The next chapter of Betty Black Memories and Fantasies is out. Big plot stuff finally reveled.
Chapter Three All The Little Animals
Expect slower production in the near future. I'll be back in school soon and don't own a scanner.
I'll also be doing a one day Drawing Anime sampler at Rosewood in October. I don't think you can sign up online quite yet but you probably could in person.
Rosewood
7/22/2013
I live in Columbus Ohio now. It's bigger than Dayton more expensive. Struggling to stand on my own feet. It's like this muddy steep hill while it's pouring down rain so thick you can't see and I have more things to carry with me that my arms are accustom to hold.
My home is a hobbit hole in the ground buried into the far right corner of a labyrinth. Inside is a mixture of art gallery and unpacked boxes. The cats own the home and I rent a room. I find my part of the hole to be quite cozy and I feel genuinely happy with it. An absurd collection of found objects, art to be restored and created, my room is the behind the scenes work in progress part of the art gallery. There are no real lights here only two desk lamps and a chain string like Christmas but with oriental lamp covers. There are blankets on the floor as a bed marked clearly by a teddy bear and pillow. My vanity is a turned over milk crate extended desk surface is a used dried paint pallet board. I have jewelry hanging on thumb tacks, maps and drawing paper pined to the walls.
I love this little room space and I wouldn't change a thing.
I just need money and some more friends? Maybe not this could be time to be productive get much done.
New chapter up Chapter 2.5 Fire
7/4/2013
Happy 4th of July! May you have a day off work filled with BBQs sparklers and kittens.
To the man who lived one house one street crossing away, former boss, neighborhood dad… You were a hilarious badass and a really awesome guy. I'm happy to have known you in some fashion. I'll always remember your nicknames, witty jokes, coffee, donuts, and hard as nails attitude. You will be missed by so many. RIP Ed Daniel

Two articles out in Dayton City Paper this week. One on Bunbury and one on Sit Stay and Play Indoor Dog Park click here
I did the photos for that article as well. Special thanks to Dr. Ok and Boyd for bringing Fraya and Frankie to model for me. I don't consider myself an artistic photographer but I think I wouldn't mind doing more commercial and promotional work.
6/15/2013
New Melancholy Evil Poptart!
Several new images added to the portfolio section. Consider the Betty images a sneak peak for the next chapter that will be coming out later this week on Amazon. Working on bringing in a guest Illustrator for it.
I've been on Twitter more lately. You should follow me I'm totally awesome. click here
3/25/2013
I have the Melancholy Evil Poptart kickstarter up!! Please spread word! Please support much needed!! Click here
J-Rabbit Swanky is officially at a salon. People of Dayton go get your nails did! facebook page
I'll be at Rosewood this Saturday exhibiting Melancholy Evil Poptart and promoting my drawing comics class! Rosewood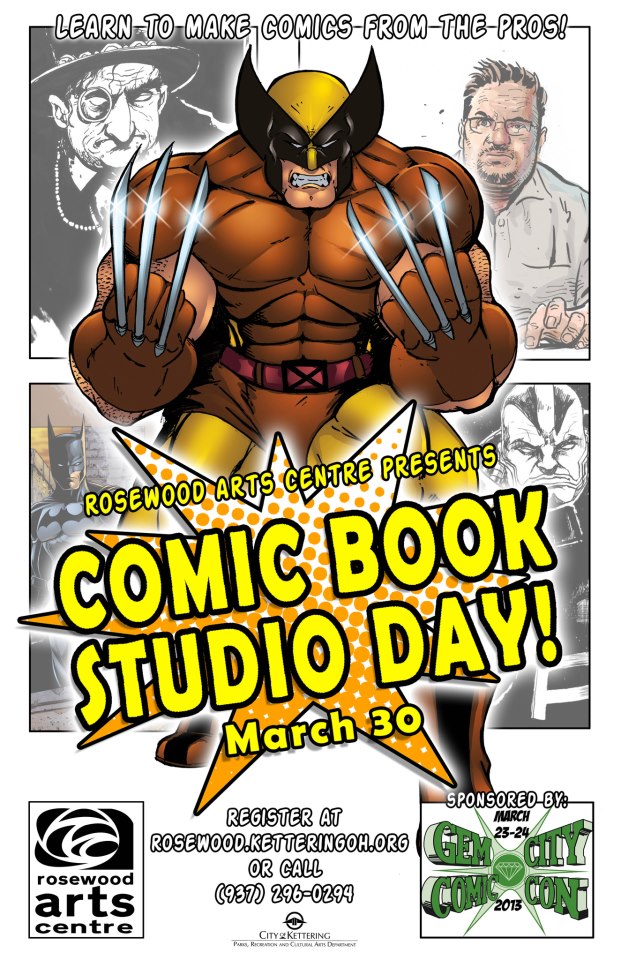 3/13/2013
I made my first cover story for Dayton City Paper!  Click here!                                                                                                                                                       I will be at Gem City Comic Con both days and so should you. Check it out it's gonna be fantastic!
I also have an article running in the opinion section of the Sinclair Community College paper Clarion this week.
Coming up!
Rosewood will be offering a drawing Comics class Thursday April 11 – May 2nd!! For children from age 12-15
Rosewood will be offering a drawing Anime class Thursdays 6 – 7:30 May 9-30th! For children from age 10-15
Yes I will be teaching both of these classes so if you live in the Dayton Ohio area sign your kids up for these awesome art classes!
2/14/20013
Happy Valentine's Day I guess.
Tuesday my first article for Dayton City Paper was published! click here
If you live in the Dayton area look for a hard copy. There are a lot of good articles in this issue and you'll get to see my cool caricature at the bottom of the article!
I'll make a blog about the interview and include QA that didn't quite fit in the article. Justin Harris is really cool! For the record I've really liked Menomena since Friend or Foe. Somebody give me gas money and tickets to the show immediately! JK I'll live. Maybe I'll catch them on the next tour.
1/31/2013
I've been insanely busy lately. I apologize for the lack of quality in my blog posts for the time being. I have some other priorities right now. Such as…
I am officially a freelance reporter for the Dayton City Paper! I'm already on my fourth assignment. I'll let you know what article and which issue as they come out.
I'm also editing for my school paper.
I am still working IT labs.
I am currently a student over full time.
I am not getting much more than five hours of sleep and am at risk of failing math!
In March I will be teaching a drawing Anime Class at Rosewood art center in Kettering Ohio.
In April I will be teaching the drawing Comics class. Both are for kids, sorry adults.
It looks like my kickstarter.com accounts will be up soon!
I'm focusing on getting Melancholy Evil Pop-tart done as much as possible before Gem City Comic Con. I hope to be at the table for Rosewood art center and I'd like to promote my work a little while I'm at the event. I'll also be covering this convention for Dayton City Paper

~That's it for now, I'll keep you posted